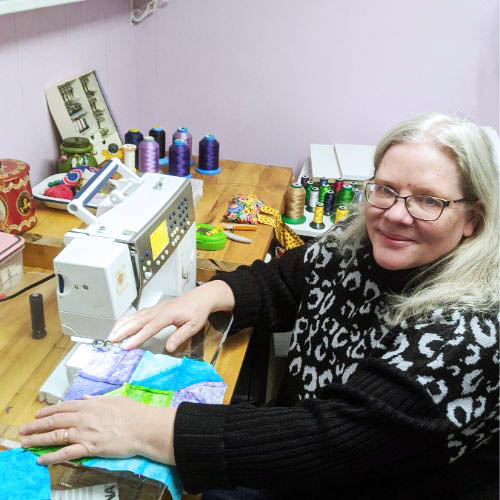 After discovering my passion for fabrics more than a decade ago, I found myself driven to produce uniquely designed custom items as gifts. I soon found others asking me to create things for them as well; which aided my blossoming hobby to grow into Star-Crossed stitches.
Star-Crossed Stitches has exponentially grown it's reputation around Bloomington, IL since those humble beginnings through our exceptional service. We offer custom embroidery, clothing, hats and every stage of embroidery services whether its helping you get started to those fine-finishing patterned stitches to add that elegant final touch or anything in between.
At Star-Crossed Stitches, we take pride in every product we bring to our customers from the first stitch to the last. Please do not hesitate to reach out to discuss your needs!
Richelle R.
Owner – Star-Crossed Stitches
What Customers Are Saying

"Had 2 shirts embroidered for my riding instructor and I loved them! Custom logo was to a 'T' and turnaround time was impeccable. She was also extremely kind and made sure everything was 100% perfect before and after the shirts were embroidered!"
-Emma P.

"We can't thank you enough for the memory quilt it was a beautiful surprise and we will cherish it forever. The workmanship is absolutely outstanding!! the bears and pillow are also just as beautiful, Thank you so much!!!"
-Melissa S.

"I got the youth sized hat for my 3.5 year old & she loves it!! It's adjustable so fits her perfectly now & she'll be able to wear it for a while. I requested the same design as the photo & it came exactly as pictured. Shelley sent a proof beforehand & was wonderful to work with."
-Mary H.

kjkjkjkjkjkjkjk
Receive 20% off your next order and let us spoil you with exclusive discounts, great giveaways, and super special offers. Join the Starlighter VIP Club today!
(Note: 20% discount can only be applied to items from Etsy store, or personalized items of which I provide the apparel/material/etc.)